BSNL – Broadband and Mobile Information, Plans & Offers
Bharat Sanchar Nigam Limited, commonly known as BSNL is a government-owned telecom service provider in India. Launched on October 1st, 2000 by the government of India, it is currently the largest government-owned wireline telecommunications network service provider and fourth-largest government-owned wireless telecommunications service provider with more than 50% market share in India. It offers mobile, landline, and broadband services through its nationwide telecommunications network across India.
Last updated in: November 2022

In terms of BSNL's mobile services, they offer prepaid and postpaid services. Similar to broadband plans, BSNL mobile too, has a wide range of plans for customers to choose from. BSNL prepaid plans can start from a very reasonable amount of ₹18, whereas the postpaid plans have a starting price of ₹199 with calling and data included.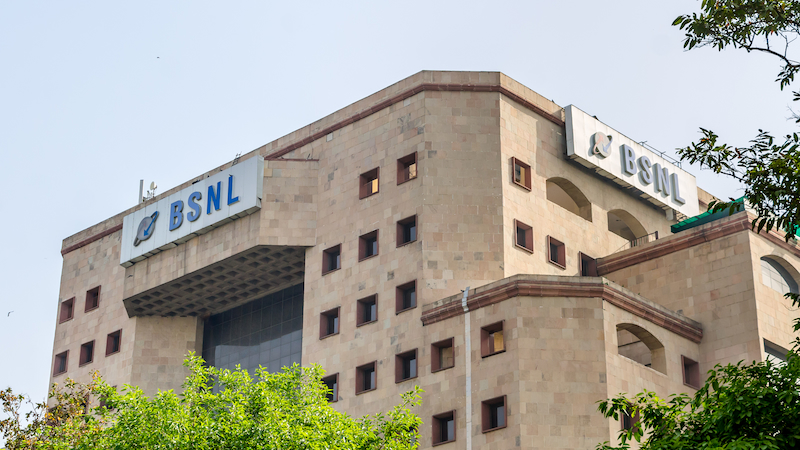 It is also one of the largest broadband providers in India. The services offered have been widely accepted by consumers across various regions of the country, both in the rural region as well as in metropolitan cities. BSNL has more than 50 broadband plans in the country starting from a basic monthly plan of ₹449 with an unlimited data download facility.
The state-owned telco is also one of the largest broadband providers in India. BSNL has made remarkable progress in providing one of the best telecom services in the country by adapting to market demands and changes over the years and has proven to be one of the most trusted telecom companies in India. The services offered have been widely accepted both in the rural regions as well as in metropolitan cities.
BSNL Broadband: Offers, Plans and Prices
BSNL Broadband, formerly known as DataOne, is a specialised division in the BSNL company. It provides both wired and wireless broadband services along with additional value-added services all across the country.
The services that are supported include always-on broadband access to the internet, content-based services, video-on-demand, interactive gaming, and much more.
BSNL is known for the usage of ADSL (Asymmetric Digital Subscriber Line) technology for its broadband transmission. The main benefit of this technology is that a user can access both telephones as well as internet services simultaneously without any disturbance. It also provides a high download speed compared to other connections. BSNL's wide range of broadband plans available allows users to choose from various plans as per their required consumption.
What is the cheapest BSNL Broadband plan?
The cheapest BSNL broadband plan is the BSNL Fibre Experience FTTH Plan for ₹399. This monthly plan has an average speed of up to 30 Mbps with a FUP limit of up to 1000 GB and offers unlimited data download. The plan also provides additional discounts and rewards on payments made through Amazon Pay and ICICI credit card. Additionally, it includes surprise offers from Amazon, Swiggy, Uber, and other top merchants.
Although it is worth noting that customers opting for the Fibre Experience plan will automatically move to the Fiber Basic Plan of Rs 449 after six months.
Cheapest BSNL Broadband Plan
| PLAN | SPEED | FUP Limit | PRICE |
| --- | --- | --- | --- |
| BSNL Fibre Experience | Up to 30 Mbps | 1000 GB | Rs 399 |
What is the fastest BSNL Broadband Plan?
The fastest broadband plan offered by BSNL is the Fiber Ultra plan with a bandwidth of 300 Mbps and also all the other plans that are available beyond Fiber Ultra such as Fiber Silver, Fiber Golden, etc, as they offer the same speed but also come with increased FUP limits.
BSNL all Broadband plans and prices.
BSNL has a plan for everyone! The company offers a wide range of broadband plans for people to choose from. The starting broadband plan is priced at Rs 449 per month and goes all the way up to Rs 16,999 per month.
Here's a list of all the known broadband plans that are provided by BSNL in their Bharat Fiber services:
Bharat Fiber – Broadband Plans

| FTTH Plans | Bandwidth | FUP Limit | Speed After FUP Limit | Price in Rs/month | Benefits |
| --- | --- | --- | --- | --- | --- |
| Fiber Basic | 30 Mbps | 3300 GB | 2 Mbps | 449 | * |
| Fiber Basic Plus | 60 Mbps | 3300 GB | 2 Mbps | 599 | * |
| Fibre TB Plan | 100 Mbps | 1000 GB | 5 Mbps | 777 | * |
| Superstar Premium 1 | 100 Mbps | 1000 GB | 5 Mbps | 749 | Free bundled OTT subscriptions |
| Fiber Value | 100 Mbps | 3300 GB | 2 Mbps | 799 | * |
| Fiber Value Plus | 100 Mbps | 1500 GB | 10 Mbps | 849 | * |
| Superstar Premium 2 | 150 Mbps | 2000 GB | 10 Mbps | 949 | * |
| Fiber Premium | 200 Mbps | 3300 GB | 2 Mbps | 999 | Free Hotstar Premium |
| Fiber Premium Plus | 200 Mbps | 3300 GB | 15 Mbps | 1,277 | * |
| Fiber Ultra | 300 Mbps | 4000 GB | 4 Mbps | 1,499 | Free Hotstar Premium |
| Fiber Silver | 300 Mbps | 4500 GB | 25 Mbps | 1,999 | * |
| Fiber Silver Plus | 300 Mbps | 5000 GB | 30 Mbps | 2,499 | * |
| Fiber Golden | 300 Mbps | 8000 GB | 50 Mbps | 5,999 | * |
| Fiber Diamond | 300 Mbps | 12000 GB | 60 Mbps | 9,999 | * |
| Fiber Platinum | 300 Mbps | 21000 GB | 70 Mbps | 16,999 | * |
* All Bharat Fiber plans include service benefits such as Video-On-Demand (VoD), Voice over Internet Protocol (VoIP), Audio On-Demand (AoD), Bandwidth On-Demand (BoD), remote education, video conferencing services, and Virtual Private LAN services.


Below is a list of prepaid broadband plans offered by BSNL which are known as 'Volume-based BSNL Broadband Prepaid Recharge Plans'. Users have the option to subscribe on the basis of data speed, data usage, or the number of days they want their plan to be active. The price range starts from Rs 200 and goes all the way up to Rs 3000.
Volume based BSNL broadband prepaid plans
Plan Name
Speed
Data Usage
Validity (in days)
Price in Rs/month
BBV RL 200
Up to 2 Mbps
700 MB
30
200
BBV RL 250
Up to 2 Mbps
1.5 GB
15
250
BBV RL 350
Up to 2 Mbps
2.5 GB
15
350
BBV RL 450
Up to 2 Mbps
3.5 GB
30
450
BBV RL 600
Up to 2 Mbps
5 GB
30
600
BBV RULG 625
256 Kbps
Unlimited
20
625
BBV RL 800
Up to 4 Mbps
8 GB
15
800
BBV RULG 990
512 Kbps
Unlimited
20
990
BBV RL 1500
Up to 8 Mbps
25 GB
15
1,500
BBV RULG 1600
Up to 1 Mbps
Unlimited
20
1,600
BBV RL 1750
Up to 2 Mbps
16 GB
90
1,750
BBV RL 1800
Up to 2 Mbps
7 GB
180
1,800
BBV RL 3000
Up to 2 Mbps
13 GB
360
3,000
What is 'Bharat Fiber'?
Bharat Fiber is one of the recent additions to the BSNL services. It was launched in February 2019 and offers Video-On-Demand (VoD), Voice over Internet Protocol (VoIP), Audio On-Demand (AoD), Bandwidth On-Demand (BoD), remote education, video conferencing services, and Virtual Private LAN services. This fiber connectivity having unlimited bandwidth and advanced technology provides fix access platform to deliver high-speed broadband ranging from 2 Mbps to 300 Mbps.
Some of the key features of Bharat Fiber include:

Smooth wi-fi connectivity
High-speed data
Increased digital outreach
Provides fix access platforms for broadband speed ranging from 256 Kbps to 100 Mbps
How to get a BSNL broadband connection?
There are multiple ways of getting a new BSNL broadband connection regardless of whether you're an existing BSNL user or not. You can get a new connection either through SMS/online methods or by physically going to a BSNL customer centre.
BSNL broadband activation
In order to activate a BSNL broadband connection, you can log onto their website here and select the option 'Click here for new connection'. Alternatively, you can also SMS the following code to 54141 (From BSNL mobile) or on 9400054141 (For All Other operators like Airtel, Vodafone, etc)
➡️ LL*STD CODE for LandLine
➡️ BB*STD CODE for BroadBand
➡️ LL + BB*STD CODE for Landline and Broadband
(STD Code of the area where service is desired. Eg: STD code of Pune is 020)
In that case, send "LL*020" to 54141 for landline (from a BSNL number) or send "LL*020" to 9400054141 for landline (other mobile users)
BSNL Broadband Coverage & Speed across India
BSNL network is spread throughout the country, even in the majority of the rural areas. This goes on to show that BSNL has the best network coverage for broadband as well as mobile connections when compared to other network providers.
As of 2020, the three largest wired broadband providers in India are BSNL (51.75%), Airtel (10.80%), and ACT (Atria Convergence Technologies) (6.78%). Other wired ISPs account for the remaining 29% of subscribers. Among the list of wireless broadband providers, BSNL has a low market share compared to Airtel, Jio, and Vi.
Is BSNL coverage good in India?
As a telecom service provider that is widely spread throughout the country, BSNL has managed to cover its network service in every corner, including the uphill and rural areas in India. BSNL's nationwide telecommunications network covers all district headquarters, sub-divisional headquarters, Tehsil headquarters and almost all the block headquarters. The company has one of the best network coverage for both mobile and broadband services among all other network providers.
BSNL mobile and broadband is available in every metro city and major cities like Mumbai, Delhi, Kolkata, Hyderabad, Chennai, Bangalore, Pune, Ahmedabad, Noida, Gurugram, and many more cities in India.
BSNL VS Airtel: Speed Test Comparison
BSNL Bharat Fibre broadband plans start at Rs 399 per month and go up to Rs 1,499 per month. The base plan offers users a speed of 30 Mbps, and the most expensive plan by the company offers a speed of 300 Mbps to its users.
On the other hand, Airtel Xstream Fiber offers limited but carefully curated broadband plans to its customers. The company starts from an entry-level 40 Mbps plan which costs Rs 499 per month and offers up to 1 Gbps speed plan that is priced at Rs 3,999 per month.
Switcheroo's Observation
Although both of these broadband service providers have a competitive price range and list of offers, Airtel manages to have the upper hand in terms of speed offerings. Airtel offers its customers a broadband speed of 1 Gbps whereas BSNL is yet to launch a plan with an equivalent speed.
BSNL Broadband Recharge
BSNL offers its customers a prepaid broadband service where customers can utilise various broadband plans at different prices and speeds as per their requirements. This service involves recharging on a monthly basis or consumption basis.
There are more than one ways to recharge your BSNL prepaid broadband. As a BSNL customer, you can recharge your internet plan through the BSNL Customer Portal on the website. Alternatively, one can also recharge through external payment platforms like PayTM, Mobikwik, Freecharge, etc.

Discontinuing BSNL Broadband
Visit the official BSNL website
To disconnect the BSNL broadband/landline connection, you can visit the official BSNL self-care portal.
Register yourself and sign in
If you already have a registered account, you can sign in and move on to the next step. In case you haven't registered yet, sign in and then follow the steps given below.
Head on to 'services'
Once you've signed in, you will be redirected to the BSNL customer care portal. Click on the 'Service' button located at the top left corner of your screen.
Select submit a service request
After selecting the service option, you shall be redirected to a new page where you'll see an option to 'submit a Service Request'. Click on it.
Enter your service ID
This is the final step in the process. You will be asked for the service ID and the request type you want to make, which in this case would be 'disconnection' along with other basic information that you will have to enter. Fill in the details accordingly and finally click on 'submit' to discontinue your BSNL services.
BSNL Mobile: Prepaid/Postpaid Plans and Offers
BSNL Mobile (formerly CellOne) is an Indian mobile network operator, operated by the public enterprise BSNL. Currently, it has over 121.82 million customers across India. It provides both prepaid and postpaid mobile services as well as many value-added services. BSNL Mobile has a pan-India presence with a presence in all the telecom circles in India. BSNL Mobile provides roaming services in the whole country as well as international roaming access to more than 300 networks across the world.
Interesting Fact:
As of 31 May 2021, BSNL Mobile has a subscriber base of 117.66 million, making it the 4th largest mobile telecommunications network in India and 20th largest mobile telecommunications network in the world.
At present, BSNL offers a wide range of telecommunications plans and services and has a consistently growing mobile network that provides 3G and 4G data plans to almost every small or big region in the country.
What are BSNL's prepaid plans?
One of the most commonly opted services of BSNL Mobile is its prepaid plans. If you're someone who does not like the idea of monthly billing and wants to use calling services and internet usage as per your specific requirements, then a BSNL prepaid plan is the right choice for you. The best part of having a prepaid plan is that you can always top-up/recharge whenever you want.
Here are some of the popular prepaid recharge plans offered by BSNL:
Popular prepaid recharge plans

| Price | Data | Validity | Benefits |
| --- | --- | --- | --- |
| ₹147 | 10 GB | 30 Days | BSNL Tunes |
| ₹187 | 2GB per day | 28 Days | 100 SMS per day, Unlimited voice calls |
| ₹319 | 10 GB | 75 Days | Unlimited voice calls, National roaming |
| ₹447 | 100 GB | 60 Days | Free EROS Now subscription, 100 SMS per day |
BSNL Prepaid Offers by Region
The best way to check out all the BSNL prepaid offers by region is through the BSNL portal. On this, you can select your state/circle depending on where you are located and browse through all the plans and offers available.
You can simply select one of the states, go on to choose the plan that suits you best, proceed with entering your basic information and lastly make the payment. BSNL has made the recharge process as easy as ABC.
What is BSNL's cheapest prepaid plan?
The cheapest prepaid plan offered by BSNL is the 1 Gb/day Combo Unlimited 3G Data Pack and you can find out the details of the plan here.
Cheapest prepaid plan by BSNL

| Price | Data & Calling | Validity |
| --- | --- | --- |
| ₹18 | 1 GB/day and Unlimited calls | 2 days |
What prepaid combo does BSNL offer?
Similar to other plans offered by BSNL, the combos also come in a wide range of options. We have curated some of the popular prepaid recharge combos for you:
BSNL Prepaid Combos

| Plan | Validity | Price in ₹ |
| --- | --- | --- |
| 1 Gb/Day Combo Unlimited 3G Data | 2 days | ₹18 |
| 200 MB Combo 3G Data Pack | 1 day | ₹21 |
| 50 MB combo 3G Data Pack | 90 days | ₹36 |
| 500 MB Combo 3G Data Pack | 7 days | ₹58 |
| 2 GB Combo 3G Data Pack | 50 days | ₹75 |
| 2 GB/Day Combo Unlimited 3G Data Pack | 28 days | ₹139 |
What are BSNL's postpaid plans?
BSNL postpaid plans are based on a monthly billing basis. You can add/remove additional top-ups in your postpaid plans. BSNL is known to have cheaper postpaid plans compared to other mobile operators in the country. However, the additional benefits provided on BSNL postpaid plans are not as many as the other operators offer.
Here are two examples of BSNL postpaid plans:
BSNL Postpaid Plans

| Plan Price | Data | Calls |
| --- | --- | --- |
| ₹199 | 25 GB | Unlimited |
Details for all available BSNL postpaid plans
Here are some of the most popular and available BSNL postpaid plans:
Popular Postpaid Plans by BSNL
Price/month
Data
Benefits
₹199
25 GB

25 GB data with rollover data up to 75 GB
100 SMS per day
Unlimited voice calling

₹399
70 GB

70 GB data with rollover data up to 210 GB
100 SMS per day
Free local and STD calls

₹525
85 GB

85 GB data with rollover data up to 255 GB
100 SMS per day
2 Family connections with unlimited voice calls and 50 GB data

₹999
75 GB

75 GB data with rollover data up to 225 GB
100 SMS per day
3 Family connections with unlimited voice calls and 75 GB data

₹1,525
UNLIMITED
(without speed restriction)

100 SMS per day
Unlimited voice calling
What is BSNL's cheapest postpaid plan?
BSNL used to have its cheapest postpaid plan priced at ₹99 until it discontinued that offer and started migrating its postpaid customers from that plan to the ₹199 plan, which currently is the cheapest postpaid plan by BSNL.
Cheapest postpaid plan by BSNL

| Plan Price | Data | Calls |
| --- | --- | --- |
| ₹199 | 25 GB with a rollover of up to 75 GB | Unlimited domestic calls |
How To Convert BSNL Postpaid SIM From 3G to 4G
Like every other mobile network, BSNL 4G too, provides users with a much faster Internet speed as compared to that of its 3G network. To upgrade from a BSNL 3G SIM to 4G, you should buy the SIM card at your nearest BSNL centre or at one of the BSNL partner/franchisee stores. The list of BSNL retail centres can be easily found online. The new SIM card may generally cost you a reasonable fee of around ₹20.
Most importantly, make sure to check whether 4G VoLTE services are provided in your area by BSNL. Once you have the sim card, all you have to do is send a message to the given number on your SIM card package and you will have your 4G SIM activated in a few minutes.
BSNL Mobile broadband coverage & speed across India
BSNL Mobile has a well-distributed network coverage throughout the country as it's widely available in both urban and rural areas. At present, it has over 121 million customers across India. One of the special features that BSNL offers its customers is the free-roaming services throughout most parts of the country. However, due to BSNL's extensive reach in rural parts of India and the lack of 4G availability in those places, BSNL 3G network does fairly well and has also proven to be better than the 4G coverage of other private operators.
Does BSNL offer 4G coverage?
BSNL started rolling out its 4G services in India in 2020 and throughout this year in 2021, it has managed to reach many parts of the country. At present, BSNL's 4G network is already live in multiple areas of the country. Moreover, the state-run telecom company is also offering a free 4G SIM card to the users until December 31, 2021. Although the amount of procuring a new SIM card is usually at a very affordable price, these kinds of initiatives usually tend to work with the audience.
Is BSNL 4G available in my city?
BSNL 4G VoLTE services were initially available for the South Zone in Coimbatore. However, the upgraded services were later expanded to more cities/circles, including Chennai, Tamil Nadu, Kerala, Andhra Pradesh, and Karnataka.
BSNL 4G service allows users in the region to experience higher-quality voice calling. Further, users will also be able to make both video and voice calls over data. At the moment, BSNL is continuously striving towards adding new cities/circles to the VoLTE list.
To ensure that BSNL 4G is available in your city:

You can visit the nearest BSNL centre or any of their partner stores.
All you have to do is purchase a 4G SIM.
BSNL users holding 4G SIM cards of the company will have to send a request for activating the VoLTE service on their device.
Most importantly, the user must ensure that he/she is using a 4G VoLTE supportive device.
Once that is confirmed, they need to send a text message typing "ACT VOLTE" and send it to 53733.
Upon sending the request, the company will activate the VoLTE service for the user in a little time.
BSNL data speed across India
The Telecom Regulatory Authority of India (TRAI) had released the data for 3G networks in India and the network operator to top that list, is none other than the state-owned BSNL.
BSNL has been the fastest 3G network since 2019 with average download speeds of 2.5Mbps. This is substantially higher than what other network providers have managed to offer with their average monthly speeds. As BSNL 4G services have been rolling out through this year, there's still not enough data to compare fairly with other operators.
BSNL mobile bill payment
Making BSNL mobile bill payments are a convenient process as there is more than one channel and it can be done instantly. Some of the common channels of making payments are:

BSNL's own website
BSNL app
Payment applications such as PayTM, MobiKwik, Freecharge, etc.
These payment options are applicable for recharging a prepaid number as well as for paying for a monthly postpaid bill plan.
How to recharge your BSNL number?
Recharging your BSNL number has never been this easy. There are various platforms available to recharge your account and most of the external payment apps offer additional benefits for every recharge that a customer makes.
What BSNL recharge packs exist?
These are some of the known recharge packs of BSNL prepaid services:
Popular recharge packs by BSNL

| Price | Data or Calls | Validity |
| --- | --- | --- |
| ₹48 | 5 GB | 30 days |
| ₹98 | 2 GB/day | 22 days |
| ₹149 | 1 GB/day | 28 days |
| ₹398 | Unlimited | 30 days |
What is the validity period of BSNL recharge plans?
Usually, the most preferred recharge plans are of 28-30 days, this way a customer does not have to worry about recharging on a daily or weekly basis. However, BSNL offers plenty of short term recharge plans that can be valid for a couple of days or a week, depending on the need of a customer.
Where can I check BSNL New Recharge Plans?
You can check the full updated list of BSNL latest recharge plans on these platforms:
How to Check BSNL balance and active plan?
BSNL gives you an option to check for the data balance from your BSNL number using different USSD codes. Here are some of them that may be helpful for you:
You can dial *112# to know the data balance.
There's also an option to check your active prepaid plan by dialling *102#
If you want to check 2G or 3G data balance, you can dial *123*6# or *123*10# to check for the balance.
Users who are on BSNL 4G network can check for the data by simply dialling *124#
You can also check for BSNL net balance using *124*2#
In order to check for night data balance, one can dial *123*8#
One can also check the details of the data balance on the BSNL app as well.
Recharge your BSNL number via BSNL App
Select 'Recharge' from the options displayed on your screen.
Enter GSM Prepaid, Mobile number, Circle and Nickname in the dialogue boxes that appear.
Click on the number linked.
Select your preferred plan or type amount for the recharge.
Click on 'Continue'.
Once you make the payment, you will successfully recharge your BSNL number.
Recharge your BSNL number via BSNL Website
When you visit the BSNL website and scroll down to select 'Mobile recharge', you will find details to recharge your BSNL number.
You will also find three categories which are: Mobile details, Communication details, and Payment details. You can start the procedure by entering your mobile details. Here's how you can do it:
Enter your Mobile number in the very first dialogue box under Mobile details.
Confirm your mobile number.
Select your State/Circle for e.g. Delhi/Maharashtra.
Enter your email address under the communication details
Add your mobile number below the email address.
In the third row, you will be asked to enter a code given there for verification purposes.
Simply enter the given code in the box.
If you want to remember the information for the next recharge, click 'yes' on the remember information box.
Once you are done with filling in all the details, click on 'submit' and you're good to go!

Recharge your BSNL number via payment apps

Another common mode of recharging your BSNL number is through external payment apps such as PayTM, FreeCharge, Amazon Pay, etc. All you need to do is:

Visit one of these apps/websites.
Select Prepaid / Postpaid depending on your current plan.
Enter your mobile in the dialogue box given below.
Select your service operator as BSNL.
Choose your circle for e.g. Delhi/Maharashtra.
Enter the amount of recharge or click on 'browse plans'.
Click on proceed to recharge and make payment.
Congratulations! Your recharge is now successful.

Some of the perks of recharging BSNL Prepaid Plans via payment apps

These payment applications are known for providing offers/discounts/cashback on a regular basis. Whenever you recharge for a BSNL prepaid or even a postpaid plan on a payment app like PayTM, Freecharge, or Amazon Pay, it is very likely that you'll win some rewards in form of coupons or cashback.


BSNL WINGS

On 16 August 2018, BSNL added another feather to its cap by launching "BSNL Wings Services" in 22 telecom circles. It is a VOIP (voice over internet protocol) based service. In WINGS, there is no involvement of a SIM or cable wiring as it's a VOIP service directly through an app. The WINGS service offers unlimited free audio/video calling for one year. The service can be activated with a one-time fee of Rs 1,297 (GST included).

These calls can be made using any data connection such as Wi-Fi, wired broadband or 3G/4G network of any operator. WINGS also supports video calls, but that is restricted between WINGS. The facility can be used anywhere within the country and the app automatically uses the existing address book on the phone.

Benefits of BSNL WINGS

One of the major benefits of WINGS is that unlike other app-based VOIP services such as WhatsApp and Telegram calls, the WINGS app can make calls to any phone number, absolutely free of cost. Some of the other key benefits of WINGS are:


Audio/Video calls and instant messaging.
Using Wings through the internet service of any operator, customers will be able to make/receive calls.
Wing users have free international roaming means they can receive calls anywhere in the world from any corner of the world without any cost.
Outgoing from any country to India will cost only ₹1.2/- pm to Wings customers.
Free mobility on PAN India basis (free domestic roaming)

Easy steps to get New Landline / WINGS connection
To get a new WINGS connection, you can register here
Once you register and make the payment, you will get a 16-digit registration PIN on your registered email.
Make sure to give your mobile number as well (can be of any operator) as you will get registration details on that number.
There is also an Aadhaar-based authentication you would have to go through in the process.
You can also choose a 10-digit WINGS number from a list. What makes it more interesting is that you can search for a favourite number or a number with your favourite series.
You will then have to log in to the BSNL portal and activate the connection.
BSNL Customer Care & Reviews
BSNL customer care service is available 24/7. If you are facing any issues with the network or your BSNL account or may have whatsoever problem with your service, you can directly contact them and they are easily accessible. The professional customer executives provide you with the best guidance.
BSNL customer care contact details
For mobile prepaid or postpaid service, you can call the toll-free number 1800-180-1503 or 1503. And you can call 8003451500 from other networks as well.
If you need solutions for your broadband services or details for a new broadband connection, then you can dial the toll-free number at 1800-425-7007
BSNL customer care numbers by state
BSNL customers all across the country can reach the help desk of BSNL for any of the specific services listed below:
BSNL customer care numbers
SERVICE
CONTACT DETAILS
BSNL Landline

1500 from BSNL mobile/landline
1800-345-1500 from other operators

BSNL Mobile

1503 from BSNL mobile/landline
1800-180-1503 from other operators

BSNL Broadband

1504 from BSNL mobile/landline
1800-345-1504 from other operators

BSNL WLL/CDMA

1502 from BSNL mobile/landline
1800-425-1957 from other operators
BSNL – How to file a complaint?
Here is a list of relevant numbers for complaints related to BSNL services
How to file a complaint?

| Service | IVRS Complaint Number | Customer Care Number |
| --- | --- | --- |
| BSNL Broadband | 198 | 18003451504 |
| Landline/WINGS | 198 | 18003451500 |
| BSNL Fiber (FTTH) | 198 | 18003451504 |
| WI-Fi | — | 18004255300 |
Alternatively, customers can also opt for the method of filing their complaints online. Here's a step-by-step guide on how to make a complaint booking online.
Visit the BSNL complaint portal
Click on 'register complaint'
Select a service from the list (Landline, Broadband, Bharat Fiber Landline, etc)
Enter STD Code (Submit with 0 Ex: 040)
Enter Landline Number (Submit 6/7/8 digit Landline number related to fixed-line/broadband/Bharat Fiber service
Select complaint type
Select a suitable reason for complaint from the drop down menu
Enter the captcha code shown for security
Click on 'submit complaint'
Note down the complaint ID displayed on the next page for any future reference as well to check the status of your complaint.
BSNL customer care reviews
BSNL has a large database of customers, which also requires a customer care service provider PAN India. We decided to have a quick look at what are the BSNL customers saying about the services provided by the company. For that, we decided to take a look at reviews posted on mouthshut.com, which is India's largest review platform.
| Category | Rating | Votes |
| --- | --- | --- |
| BSNL Broadband | 2.25/5 | 22,272 |
| BSNL Mobile | 2.30/5 | 15,561 |
BSNL Mobile services have a wide range of reviews and a lot of mixed reactions from people. Here are some of the reviews for BSNL mobile services that caught our attention on mouthshut.com:
⭐️⭐️⭐️⭐️⭐️
"BSNL 3G provide very fast speed along with roaming services to its customers at a reasonable price which is affordable for maximum of us. The best thing is that they provide better customer care service and solve all problems of customer earliest. This is trustworthy network." – Ajay Kaliraman
⭐️⭐️⭐️
"The bsnl 3g will provide a descent speed as compared to that of some other 4g bands.The recharge packs are economic and very helpful for the customers. The unlimited packs, validity packs all are in a decent price range.It also provide consistently strong network throughout the all areas." – Arun Manu
⭐️
"Worst network service. If you have 4G sim then you will get a 2G net service. Service provides in very slow manner. If you raise any problem, they solve it after weeks or sometimes they ignore us. Really worst network." – Suluksha Dalvi
We have also collected a few reviews for BSNL Broadband services through mouthshut.com:
⭐️⭐️⭐️⭐️⭐️
"Super speed FTTH. No issues for last three years . My two stand by connection having regular disconnection issues. Thanks for bsnl and it's staffs." – Sreedharan
⭐️⭐️⭐️
"The broadband was satisfactory for me as a student and going through online classes. But sometimes net went away and after calling the customer care I got poor service. Anyway now It is resolved and I am getting better service. The download is abt 5 mbps and upload about 1 mbps". – Sagniknath
⭐️⭐️
"BSNL has one of the worst connections ever, you use it for half a month and poof, the wi-fi get really slow, this is definitely not a choice if you are especially interested in Gaming. Overall it just sucks". – Longesha
How to access the BSNL customer portal?
BSNL customer portal is an upgraded service that BSNL has initiated for its customers. It allows customers to check their plans, data status, add new subscriptions, manage complaints, and more.
In order to register yourself on the BSNL portal, you can follow these steps:

Open BSNL Selfcare Portal
Log in or Sign Up depending on whether you're already registered or not. If it's your first time, then click on 'sign up'.
Enter your name, email ID, mobile number, select your telecom circle from the list, enter the captcha code and click on 'next'.
You will receive a one-time password (OTP) on your given mobile number. Enter the OTP.
Next, you will be given an option to create a password with a minimum of 8 characters having at least one alphabet and one number.
Once you're done with that, you will be redirected to the login page and there will be an email verification link sent to your given email address.
Activate the link and voila! You've successfully registered on the BSNL customer portal.
BSNL Mobile prepaid & postpaid Review
BSNL has plenty of prepaid recharge plans for its users in India. The company provides low-cost unlimited recharge plans for every different type of customer need and is also one of the cheapest international roaming recharge packs compared to the other telecom providers in India. BSNL prepaid recharge plans start with as little as Rs. 18 and go all the way up to Rs 6,000. In addition to that, BSNL offers unlimited voice calling from BSNL to BSNL numbers and other networks. However, the network quality is something that varies from customer to customer due to which the overall reviews of BSNL are usually ranging on a satisfactory level.
As per mouthshut.com, BSNL Mobile 3G services have a rating of 2.30 out of 5, which can be considered not too bad considering the wide range of their services and a huge list of customers, especially in the rural areas.

BSNL Broadband Review
BSNL Broadband has its own separate category of reviews on mouthshut.com apart from BSNL Mobile reviews. With more than 22,000 people voting on the platform, BSNL broadband has an overall rating of 2.25/5 and is considered to be doing fairly well compared to other network providers. It is worth noting that considering the number of customers that BSNL has versus the number of reviews on the platform, the overall rating cannot be considered 100% accurate or up-to-date.

Is BSNL on the verge of closing down?
There was a lot of discussion doing rounds in 2019 about whether BSNL was going to close down. This was due to the fact that the losses that the company was incurring were in big numbers at the time. The telecom giant had faced a loss of ₹14,000 crores during the financial year of 2018-2019. However, as it is a state-owned company, there were initiatives taken to revive the company and keep moving forward.
At the beginning of 2020, the Minister of State for Telecom Sanjay Shamrao Dhotre said as per the revival package, BSNL has been allotted a 4G spectrum from April 1 and 4G technology would be fully implemented within 19 months. Here we are in 2021, with BSNL 4G services being rolled out continuously throughout the country and the company being far from closing down.
Is BSNL in profit or loss?
Currently, BSNL has been incurring more losses than making profits. As per official sources, with the financial year ending on March 31 2021, BSNL had narrowed its consolidated loss to Rs 7,441.11 crore. Although, this was a better result compared to the previous year as the company had posted a loss of Rs 15,499.58 crore in 2019-20. As per an official of BSNL, the losses had come down mainly due to a reduction in employee wages on account of voluntary retirement opted by 78,569 employees.
When will BSNL 5G launch?
BSNL is currently going through the process of spreading its 4G network across the country. At such a time, it has been said that the state-run telecom company's 5G non-standalone (NSA) networks could come out by the end of 2022. Moreover, by 2023, BSNL could also come out with 5G standalone (SA) networks as well. But the company's main focus at present is to ensure its 4G services are deployed well around the country and then focus on switching that to a 5G network.
What is the History of BSNL?
Bharat Sanchar Nigam Limited or BSNL is India's oldest government enterprise and its history can be traced back all the way to the era of British India. The foundation of the telecom network in India was laid by the British sometime during the 19th century. In 1851, the British East India Company started using the telegraph services and till 1854 telegraph lines were laid across the country. Later in 1854, the telegraph service was opened to the public and the first telegram was sent from Mumbai to Pune. After the bifurcation of the Post and Telegraph Department in the 1980s, the creation of the Department of Telecom eventually led to the foundation of the government-owned telegraph and telephone enterprise which then eventually led to the emergence of BSNL. After providing the telegraph services for over 160 years, BSNL decided to shut it down completely on 15 July 2013.
One of the most successful products of BSNL has been its landline services. It was launched in the early 1990s and was the only fixed-line service provider in the country until 1999.
The BSNL as we know it was founded on the 1st of October, 2000 and is headquartered in New Delhi, India. It is under the ownership of the Department of Telecommunications, Government of India.
Is BSNL safe?
As per one of the key points included in the privacy policy of the company, BSNL is highly committed to keeping its user's personal information secure and ensuring that their private information remains protected and no outside agency has any access to it. The company also ensures to constantly re-evaluate its information security protocols to determine the best ways to fulfil its existing obligations in this regard.
FAQ
How can I check my BSNL mobile bill?
Checking your BSNL mobile can be done by following these simple steps:
1. Login to the BSNL Portal
2. Select 'wireless'.
3. Click on 'view bills'.
4. Your present bill amount and the unbilled amount will be displayed.
Can I recharge BSNL prepaid online?
Yes, you can certainly recharge your BSNL prepaid online via BSNL website/app or through any of the official payment apps such as Freecharge, MobiKwik, Amazon Pay, PayTM, etc.
Does BSNL offer fiber broadband?
Yes, BSNL offers a fiber broadband service with the name of Bharat Fiber. It is the service under Fiber to the Home (FTTH) technology for ultra-speed internet connectivity offered to customers on a PAN India basis provided directly by BSNL or through Telecom Infrastructure Providers (TIP) Franchisees.
How to get BSNL SIM replacement & what's the cost?
For getting your BSNL SIM replaced, you can head to a BSNL Customer service center for the same mobile number along with a document that proves your identity. The BSNL staff will then verify the details regarding validity and name and will immediately issue the BSNL SIM card replacement with the same mobile number. In all the telecom circles in India, the BSNL duplicate SIM card cost for Micro, Nano, and 256K variants will be the same.
Updated on 8 Jun, 2022
At Switcheroo Plan, we are committed to finding you the best deal at the best price in only minutes!