Internet Providers: The best providers in 2022

Internet has become a necessity and the need for internet providers are now more than ever. These internet providers ensure to provide a stable internet connection in as many homes as possible. In India, there are quite a few popular internet providers such as Airtel, Jio, Hathway, ACT Fibernet, YOU Broadband, BSNL Broadband, and a few others. Apart from the big ones, there are also a lot of local internet providers varying from region to region.
Last updated in: September 2022
In this article, we shall look at some of the top internet providers and their provided services.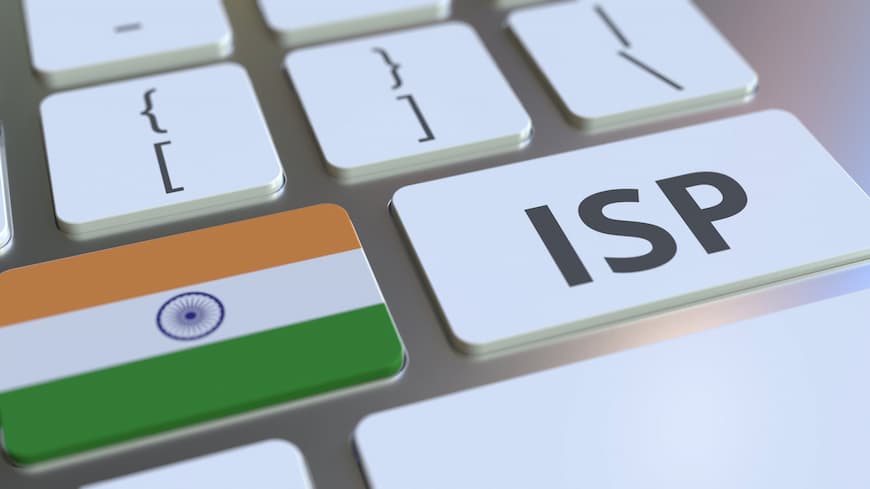 What are internet service providers?
ISP or Internet service providers, are companies that provide internet connections and services to individuals and corporations for home/office use. An internet provider provides a connection which allows a user to access the digital world with the required facilities.
What are the types of internet providers
Internet providers use a range of service technologies for various customer types. These are the most common types of internet services:
DSL (digital subscriber line):
DSL is a wireline communications system that allows data to be transmitted more quickly over existing copper telephone lines that are now in use in homes and companies. DSL broadband offers transfer speeds varying from Kbps to a certain amount of megabits per second (Mbps).
Cable broadband:
Cable companies use cable modems to provide broadband over the same copper cable that distributes audio and video to your television. They generally give 1.5 Mbps or higher transfer rates and the speeds relatively similar to that of DSL.
Fibre optic broadband:
Fiber-optic residential internet is comparatively the latest technology in the broadband sector, and it's powered by high-speed cables made of fibers and glass that are widely spreading across the country. The high speeds offered through fibre make streaming HD videos, video calls, HD gaming, a smooth experience. Ideally, it is the best choice for heavy internet users, such as regular gamers or a family that streams content on multiple devices simultaneously.
Wireless or Wi-Fi broadband:
As the name suggests, Wireless/Wi-Fi does not use any telephone lines or cables to connect to the internet. It uses radio frequency instead. Wireless is an 'always on' connection and it can be accessed from anywhere. This type of internet connection is largely available and is continuing to increase its user base by the day. The speeds can vary in this type of an internet connection.
Satellite:
This is one of the slow speed connections compared to the other types. Satellite connection accesses the internet via a satellite in the Earth's orbit. Since the signal travels from the earth to the satellite and back again, it is delayed as compared to cable and DSL. Satellite connection speeds are around 512K to 2.0 Mbps and can also be used to service rural or sparsely inhabited areas.
What are the benefits of getting an internet connection?
There are numerous benefits of getting an internet connection, especially in today's times. Here are some of the notable benefits.
High Speed:
As the world of internet has evolved over the years, the available speed offerings have taken a hike too. At present, a user can get an internet connection as fast as 1 Gbps where downloading a movie is a matter of a few minutes.
Internet connectivity with phone line:
Unlike a couple of decades ago, users can be connected to the internet as well as their phone lines simultaneously.
Multiple users at once:
A good internet connection is above certain limitations. It enables multiple users to access the internet at top speed without any hassle.
Reliability:
Frequent internet use can cause a lag or break in the transmission of data. Fortunately, users of a broadband internet connection do not need to worry about it as the internet connections in the current times are advanced and secure.
Cost-effective:
Contradictory to some predictions, internet services have certainly gotten more and more cost-effective over the recent years. India is one of the countries with the cheapest costs for internet services.
Improved Communication:
In a way, the internet has gotten the world closer than ever. There's a huge uprise in terms of connectivity through social media engagements.

How to choose a good internet provider?

If you would like to have a good enough internet connection that can allow you to smoothly utilise functions such as web-browsing, video conferencing, HD gaming, or whatever else your expectations may be, it's quite important to check a few factors when choosing a good internet service provider and their plans. Here are some of the points to consider.

Cost:
One of the first things to consider when opting for an internet provider is your budget. It's about how much you are willing to spend per month/per year for a particular internet connection speed. Once you have established your cost estimates, you won't have to go through the trouble of browsing plans of all price ranges but only the one that fits your budget instead.
Location and Availability:
One of the key things to remember when selecting an internet service provider (ISP) is your location and the ISP's availability. You will only be able to opt for an ISP that's offering services in your locality. Most of the top ISPs have a page on their website showcasing their availability as per regions/areas.
Download And Upload Speeds:
The internet connection speeds you choose have a big effect on the overall user experience. The speed should be chosen as per the regular requirements of a user. If you are someone who would use the internet service for web-browsing and video streaming services, then a moderate speed of 100 Mpbs/200 Mbps connection will be good for you. On the other hand, if you require the internet mainly for gaming purposes, then a high-speed internet is something you should go for. The download and upload speeds are usually provided by the ISP, hence you won't have a hard time finding out.
Reliability:

Your internet is as good as your internet provider. Hence, choosing a reliable service provider is of utmost importance. Make sure that the ISP has a good customer service, good reviews online and a good word of mouth, if possible. This will only help you in the long run, in case of any inconvenience.

What is a good internet speed for home use?

А gооd dоwnlоаd sрeed аt home should be at leаst 25 Mbрs, аnd а gооd uрlоаd sрeed is аt leаst 3 Mbрs. The internet speed required for your house mainly depends on what you will be doing with it. We have listed below the details to help you decide what speed could be the best for you.

| Internet Speed | Works for |
| --- | --- |
| 0-5 Mbps | Emails, Streaming music on one device, Google search |
| 5-40 Mbps | Video streaming on one device, Video calling via Skype or FaceTime, Online gaming for one player |
| 40-100 Mbps | HD video streaming on a few devices, Multiplayer online gaming, Downloading large files |
| 100-500 Mbps | Video streaming in Ultra High Definition (UHD) on multiple screens, Quickly downloading files, Gaming online for multiple players |
| 500-1,000+ Mbps | Doing a lot of almost anything on numerous devices simultaneously |

Who are the top Internet Service Providers?

There are quite a few recognised and renowned internet service providers in India at present. We have listed them below for your reference.

Airtel Xstream Broadband

Airtel is one of the biggest telecommunications company in India and the broadband service provided by this company is undoubtedly one of the best out there. Airtel's broadband service goes by the name of 'Airtel Xstream Fiber' and there is a wide range of plans offered under this segment. The starting price for an Airtel Xstream broadband plan is from ₹399 onwards. Airtel is also known for offering a lot of additional benefits along with its broadband plans. These benefits include subscription to the top OTT services, online courses, online free music platform, complimentary insurance service, and more.

We have listed below, one of the popular plans by Airtel broadband. For further information and browsing through other plans, click here.

Popular broadband plan by Airtel

| Plan Name | Price (monthly) | Internet Speed | Calls | Benefits |
| --- | --- | --- | --- | --- |

Hathway Broadband

Hathway is also one of the top internet service providers in the country. The company is widely available and so are its services. One of the unique service features of Hathway Broadband is that it offers some plans with unlimited internet without any FUP limit. Check out the details of one of the popular Hathway Broadband's plan.

Popular broadband plan by Hathway

| Plan Name | Price (3 months) | Internet Speed | FUP Limit | Benefits |
| --- | --- | --- | --- | --- |

JioFiber

JioFiber is a broadband service by Reliance Jio, the company that has disrupted the internet scene in India. JioFiber offers a wide range of affordable plans that also come with a lot of additional benefits. JioFiber's starting plans are from ₹399 + GST that offers a 30 Mbps internet speed. The top most plan by JioFiober is the 1 Gbps plan that comes at a price of ₹3,999 (Unlimited data) and ₹8,499 (FUP of 6600 GB).

Popular Jio Fiber plan

| Price | Bandwidth | Data Limit | Validity | Benefits |
| --- | --- | --- | --- | --- |
| ₹999 | 150 Mbps | Unlimited | 30 Days | OTT subscriptions to Amazon Prime Video, Disney+Hotstar, and 14 others |

Tata Sky Broadband

Tata Sky broadband that is now known as Tata Play Fiber also serves a range of broadband plans for its customers. Tata Play Fiber's broadband plans are available on a monthly, quarterly, semi-annual and annual basis. Comparatively they are priced lower than other internet service providers. The company also offers free router and installation services along with their broadband plans.

Popular broadband plan by Tata Play Fiber

| Plan Name | Price (monthly) | Internet Speed | Calls | Benefits |
| --- | --- | --- | --- | --- |

ACT Fibernet Broadband

ACT Fibernet is quite popular in the southern regions of India, especially in Bangalore, Chennai, and Hyderabad. ACT broadband is also said to be one of the fastest internet service providers in the country. The company offers a wide range of broadband plans and services and is even more economical if you opt for the yearly plans. Here is one of the most popular broadband plan by ACT Fibernet.

Popular broadband plan by ACT Fibernet

| Plan Name | Monthly Data | Internet Speed | Monthly Price | Benefits |
| --- | --- | --- | --- | --- |
| ACT Storm | Unlimited | 300 Mbps | ₹1185 | Subscription to Zee 5, ACT Shield, SonyLiv, Hungama Play, and Cult.fit |

Spectra Broadband

Spectra's broadband's presence is available in cities such as Delhi, Gurugram, Noida, Mumbai, and others. Spectra Broadband also happens to be one of the early internet service providers to offer the fastest available internet speed, i.e, 1 Gbps connection. Although, Spectra does not offer a 150Mbps plan for instance, but instead of that, a monthly 100Mbps plan would provide adequate internet bandwidth. Below is one of the plan information offered by Spectra Broadband.

Spectra broadband plans

| Plan Name | Monthly Data | Internet Speed | Monthly Price | Benefits |
| --- | --- | --- | --- | --- |
| Air Mesh Lite+ | Unlimited | 250 Mbps | ₹999 | Enterprise grade router for free and symmetric internet speeds |

YOU Broadband

YOU Broadband is a broadband service that comes under the Vodafone brand umbrella. YOU Broadband provides broadband services to for home use as well as small and medium-sized business use to its customers various regions across the country such as Maharashtra, Gujarat, Karnataka, Telangana, Andhra Pradesh, and Haryana. You can check out one of the popular broadband plans of YOU Broadband below.

Popular plans by YOU Broadband

| Plan | Monthly Data | Monthly Price | Benefits |
| --- | --- | --- | --- |
| 200 Mbps | Unlimited | ₹1,062 | – |

Excitel Broadband

Excitel, originally the network providers from Europe, known for providing one of the best internet services are established and available in various parts of India as well. Their broadband plans are also known to be affordable compared to other providers. Excitel offers a variety of broadband plans, one of which provides up to 300 Mbps bandwidth for less than ₹500, if taken on a yearly basis. We have mentioned the details of that plan below.

Popular plans by Excitel Broadband

| Plan | Monthly Data | Monthly Price | Benefits |
| --- | --- | --- | --- |
| 100 Mbps | Unlimited | ₹699 | – |

Tikona Broadband

Tikona Infinet Limited is one of the most reliable internet service provider with a presence in more than 20 cities. Over the years, it has since grown to become one of the best broadband service networks. It currently serves two lakhs or more users and offers all home and office internet networks. The ISP has the highest user base from metropolitan cities like Delhi, Mumbai, Chennai, Bangalore, and others.

Tikona Broadband plans

| Plan Speed | Validity | FUP Limit | Price |
| --- | --- | --- | --- |
| 100 Mbps | 1 Month | Unlimited | ₹ 699 |

BSNL

Bharat Sanchar Nigam Limited (BSNL) is a government-owned telecommunications corporation that operates in almost all the telecom circles of India. BSNL offers its broadband services under the name of 'Bharat Fiber' and the plans range between ₹449 to ₹1,499. Below mentioned is one of the popular BSNL broadband plans.

BSNL plans

| Plan Name | Speed | FUP Limit | Validity | Price (in ₹ |
| --- | --- | --- | --- | --- |
| SuperStar Premium – 1 | Upto 100 Mbps | 1000 GB | 1 Month | ₹749 |

How to find out internet service providers near me?

There are multiple ways of finding out the best internet service providers near you. Let's look at some of the common and effective methods.

Official websites: Almost all the renowned ISPs such as Airtel, Jio, BSNL, Hathway, and more, provide an option to locate their nearest store as per your location. All you have to do is head to the website of your preferred provider, enter your address/locality, and the website will inform you if the ISP operates in your area or not.
Google Search: A very basic, yet a very effective way of finding out information about internet service providers near your location. Just type of google, 'internet providers near me' and the search results will help you take things forward.
Word of mouth: This comes into help if you believe in taking recommendations from others around. It's always beneficial to find out from your neighbours what service provider they are subscribed to and how has their experience been so far. This could make things easy for you as they are also located in the same vicinity as you and you will have a better understanding of which service provider works best in that area.

How to get a new internet connection?

Getting an internet connection in today's times is simpler than ever. You can either get a new internet connection online or offline, as per your preference. We have mentioned the process for both the options below.

Getting a new internet connection online

In order to get a new internet connection, all you have to do is:

Head to the website of your preferred internet service provider
Browse through the available plans
Select the plan that suits you best
Enter your contact details and your address information
Soon, you will have one of the representatives of the company visit your place for a new connection

Getting a new internet connection offline

There is also a way to do the process offline. You'll find the steps here:

Head to the nearest store of your preferred internet service provider
Consult one of the store representatives and browse through the available plans
Select the plan that suits you best
Provide your ID proof (Aadhaar card/PAN Card) and Address proof (Driving Licence/Aadhaar Card)
Make the payment
The executive will activate your connection and will soon visit your house to install the new broadband service

Customer Service contacts of internet providers

Listed below are the customer service contact information of all the top internet service providers in the country. You can refer to them as per your requirements.

Customer Care contact information of all the top ISPs in India

FAQ

Which provider is best for internet?

In India, there are quite a few popular internet providers which ensure a stable internet connection, such as Airtel, Jio, Hathway, ACT Fibernet, YOU Broadband, BSNL Broadband.

What are the three types of Internet service provider?

Types of Internet connections include:

Cable Internet: This type of service uses coaxial cable.
Fiber Optic Internet: This service involves the use of a fiber optic cable that transmits data at the speed of light.
DSL: Digital Subscriber Line (DSL) uses the telephone line to connect you to the Internet.

What is a good internet speed?

25 Mbit/s is recommended for four or more devices. For two or more users who frequently stream high-definition or 4K videos, use video conferencing, play online games, or work from home, a good Internet speed of 12 to 25 Mbps makes sense.
Updated on 12 May, 2022