Asianet Broadband: Plans and Availability
Asianet Broadband is widely regarded as one of India's most reputable internet service providers (ISPs). They offer a wide range of broadband plans at affordable prices. Asianet Broadband primarily serves the southern region of India. Learn about Asianet Broadband's various plans and benefits in this article.
Last updated in: September 2022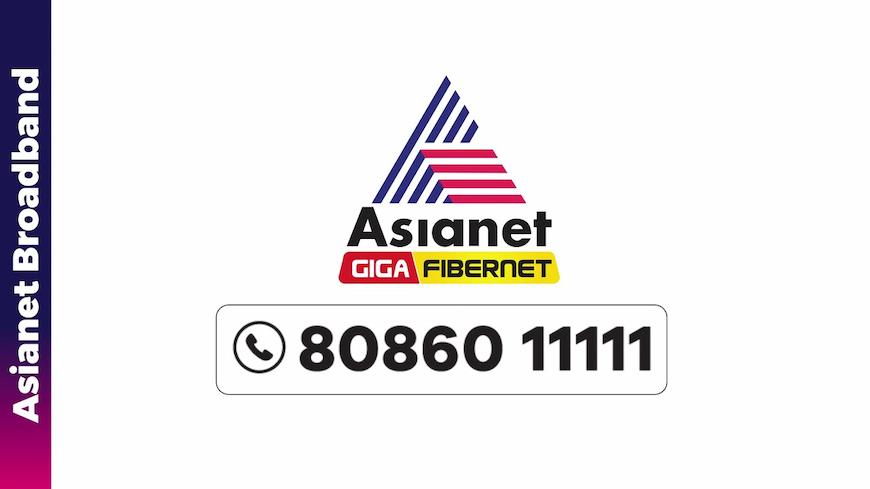 Asianet Broadband – Information and Availability
Cable network services company Asianet Broadband has been Kerala's major cable network service provider since 1993. TRAI has ranked it as one of India's top 20 internet service providers and one of the country's fastest-growing ones.

The DOCSIS and GPON technologies used by Asianet Broadband have been adopted by the world's leading internet providers. Asianet Broadband serves the southern region of India, with a particular emphasis on offering high-quality services in key towns in Kerala as well as a few large cities of Karnataka, Andhra Pradesh, and Telangana, among other places.

Is Asianet Broadband optical fibre?
Yes, Asianet Broadband is based on optical fibre technology. As a result of the optical fibres they contain – tiny strands of transparent material – fibre optic cables can carry data at speeds up to 31% slower than the speed of light, making them ideal for high-speed data transmission. In contrast, electrons travelling through copper wires move at a speed that is less than 1% that of light. Fibre optic cables are highly durable and are increasingly being regarded as the gold standard for high-speed data transmission. For the environment's sake, it is time to switch to fibre optic lines.

What is Asianet Giga Fibernet?
Giga Fibernet is a new technology that allows faster data transmission at 200 Mbps. It also makes data prices affordable and accessible. Asianet Giga Fibernet's broadband services have been extended to several locations, including Kerala, Tamil Nadu, Andhra Pradesh, Telangana, Karnataka, and Maharashtra, thanks to the company's aggressive expansion plans. The ISP offers broadband options with 200 Mbps speed in all states. Asianet's Giga Fibernet services include free cable TV and unlimited bandwidth.

Where is Asianet Broadband available?
Asianet Broadband is available in Kerala, Karnataka, Maharashtra, Telangana, and also many other regions in south India.

Why choose Asianet Broadband?
There are many reasons to choose Asianet like:
Higher internet speeds
Affordable range of broadband plans
Free cable TV subscription
Dual-band modems
Quick customer support
How to install and activate Asianet Broadband?
Asianet Broadband offers the most cutting-edge broadband service in Kerala.

If you want a new connection, you will have to fill out the online application form, after which you'll be directed to Asianet Broadband's login page. I
To get a new connection, follow the onscreen instructions.
Once you have successfully followed all instructions, you will receive a message from the company regarding your installation of the Asianet Broadband service.
In a short amount of time, you will receive the modem for installing Asianet Broadband at your home or office.
Asianet Broadband – Plans and benefits
Asianet Broadband offers many data plans starting from Rs. 499. These plans come with a host of other great benefits like cable TV subscriptions, higher speeds, and additional offers. Higher data plans are needed to accommodate the growing number of internet-enabled household gadgets in the home, changing lifestyles, and more usage of technology. When looking for the top unlimited data plans, ensure that your ISP offers the fastest home internet speeds suited for online broadcasts, video streaming, or playing video games.

What are the Asianet Broadband plans?
| Plan name | Price | Validity | Speed | Monthly Data Limit | Activation Charge |
| --- | --- | --- | --- | --- | --- |
| Entry Plan | 833 | 1 month | Up to 125Mbps | 600 GB | Rs.1,000 |
| Home Plans | 700 | 1 month | Up to 100 Mbps | 300 GB | Rs.1,000 |
| Student Superior Plan | Rs.1,000 | 1 month | Up to 200 Mbps | 1000 GB | Rs.500 |
Asianet Broadband Unlock Unlimited Internet Plans
| Plan rate | Free extra months | Speed | Data per month (GB) |
| --- | --- | --- | --- |
| 399 x 12 months | 2 months | 30 Mbps | 3000 |
| Rs.699 x 12 months | 2 months | 100 Mbps | 5000 |
| Rs.999 x 12 months | 2 months | 150 Mbps | 5500 |
| Rs.399 x 6 months | 1 month | 30 Mbps | 3000 |
| Rs.699x 6 months | 1 month | 100 Mbps | 4000 |
| Rs.999x 6 months | 1 month | 150 Mbps | 4500 |
Which Asianet Broadband plan is the best?
The ₹399 plan is the best due to its affordable pricing and decent benefits for a single user. It offers a speed of 30 Mbps and 2 months of extra validity when you recharge it for 12 months.

| Plan rate | Free extra months | Speed | Data per month (GB) |
| --- | --- | --- | --- |
| 399 x 12 months | 2 months | 30 Mbps | 3000 |
What are Asianet Combo plans?
If you buy the Asianet Combo pack, you could get both cable TV service and Asianet Broadband internet. Following are the Combo plans that Asianet Broadband has for you.

| Combo Pack Price | Data | Cable TV channels |
| --- | --- | --- |
| Rs. 499 | Unlimited Data @20Mbps | 249 Channels |
| Rs. 699 | Unlimited Data @40 Mbps | 266 Channels |
| Rs. 799 | Unlimited Data @60 Mbps | 294 Channels |
Asianet Broadband – Corporate plans
Asianet Broadband offers various internet plans for businesses. The needs of corporates are different from the public, and that's why Asianet Broadband has curated a list of bespoke plans that meet the requirements of business owners.

| Plan Name | Price | Data | Speed | Speed post FUP |
| --- | --- | --- | --- | --- |
| MLL_25_1000 | Rs. 4000 | 1000 GB | 25 Mbps | 5 Mbps |
| MLL PRITHVI_50_3000 | Rs. 7500 | 3000 GB | 50 Mbps | 5 Mbps |
| MLL AGNI_100_3000 | Rs. 9000 | 3000 GB | 100 Mbps | 5 Mbps |
| MLL SHAURYA_200_3000 | Rs. 11000 | 3000 GB | 200 Mbps | 5 Mbps |
All corporate activities revolve around communication. Internet access is essential in today's world, and businesses are constantly searching for the best corporate data plans. When it comes to business broadband plans, internet service providers offer unlimited high-speed data plans that are ideal for business. Asianet Broadband provides corporate plans with a base plan of 1000GB that can go up to 3000GB or more.

The cost of business plans is also influenced by the company's internet speed requirements. Fast-growing businesses can benefit from ISPs that offer download speeds of up to 200 Mbps. To provide businesses with the most reliable and consistent internet connection possible, most commercial internet service providers use fibre net broadband. Frequent internet service interruptions affect business operations. Hence, choosing a business internet service provider (ISP) that offers extensive, voice-based, round-the-clock customer assistance is a wise move.

What are mini leased line plans by Asianet Broadband?
Asianet Broadband also offers mini leased line plans for SMEs and homes. These plans start from Rs. 4000 and offer up to 1000 GB of data. The term 'leased line' refers to a leased line that connects to the internet. A leased line connection is a dedicated telecommunications link between the customer's office or home and the local exchange, which is how broadband and leased lines vary. A further benefit is that even during peak usage periods, the speed of uploads and downloads is not affected.

Because of their high level of security, enterprises favour leased line connections. Leasing companies ensure that their broadband leased line plans give higher speeds, greater capacity flexibility, and more reliable service. Additionally, internet leased line providers can deliver high volume data transmissions at a higher rate, making your organisation more efficient, faster, and more productive at a lower cost. Several leased line service providers in Kerala provide fantastic data plans for businesses of all sizes.

Asianet Broadband Web hosting
Asianet Satellite Communications Private Limited's web hosting subsidiary, Asianet Web, is the best in India. Asianet provides high-tech Web Hosting Services that are worry-free, cost-effective, and customer-friendly.

Services included in web hosting:
Windows Hosting
Linux Hosting
Reseller Hosting
Website Development
Server Colocation
Domain Name Registration
Corporate E-mail
Dedicated Service
VPS
Asianet Broadband – Bill payment Paying your Asianet broadband bills online is far more convenient than doing so the old-fashioned way. You can pay your broadband bill online at any payment platform that offers this option. There are many online platforms like Paytm, PhonePe and Google Pay that provide select services for paying broadband bills. The process is straightforward and doesn't take more than 5 minutes.
Asianet Broadband online bill payment If you are looking for a way to pay your Asianet broadband bills online, you can follow this method.
Visit this link.
Enter details like subcode, name, plan, and dues.
Enter your payment details in the next step.
Click on Pay.
Congratulations, you have successfully paid your Asianet broadband bill.
What are the other options for Asianet Broadband bill payment?
You can use UPI apps like Paytm, PhonePe, and Google Pay to pay your Asianet Broadband bills.

How to check the Asianet Broadband balance?
Go to https://myabb.in/.
Enter your user credentials.
Press Login.
You will now see an option to check your broadband balance.
Asianet Broadband – Customer Care contacts
You can contact Asianet Broadband easily through a toll-free number or reach out to them via email. We have provided the necessary contact details in the sections below.

What are the Asianet helpline numbers?

Helpline email contact: helpdesk@asianetbroadband.in

What is the contact number to get a new Asianet Broadband connection? For a new connection, you can contact Asianet Broadband on this number: 80860 11111

&nbsp,

FAQIs the Asianet modem free of cost?

Yes, when you purchase an Asianet broadband connection, you get a free modem.

Which broadband is the best in Kerala?

Asianet is the best broadband internet service provider in Kerala due to its higher internet speeds, free cable TV, and affordable price range, among other things.

What are the activation charges for Asianet Broadband?

The activation charges for Asianet broadband vary between Rs. 500 to 1000.

How to change the Asianet Broadband wi-fi password?

The Password Settings feature on the Asianet cable modem will allow you to modify the current login password for your Asianet fibre internet connection. For the first time, leave the current password field blank and enter the new password. Afterwards, click on the 'Apply' option.
Updated on 13 Apr, 2022